December 10, 2020
@
6:30 pm
–
9:00 pm
PST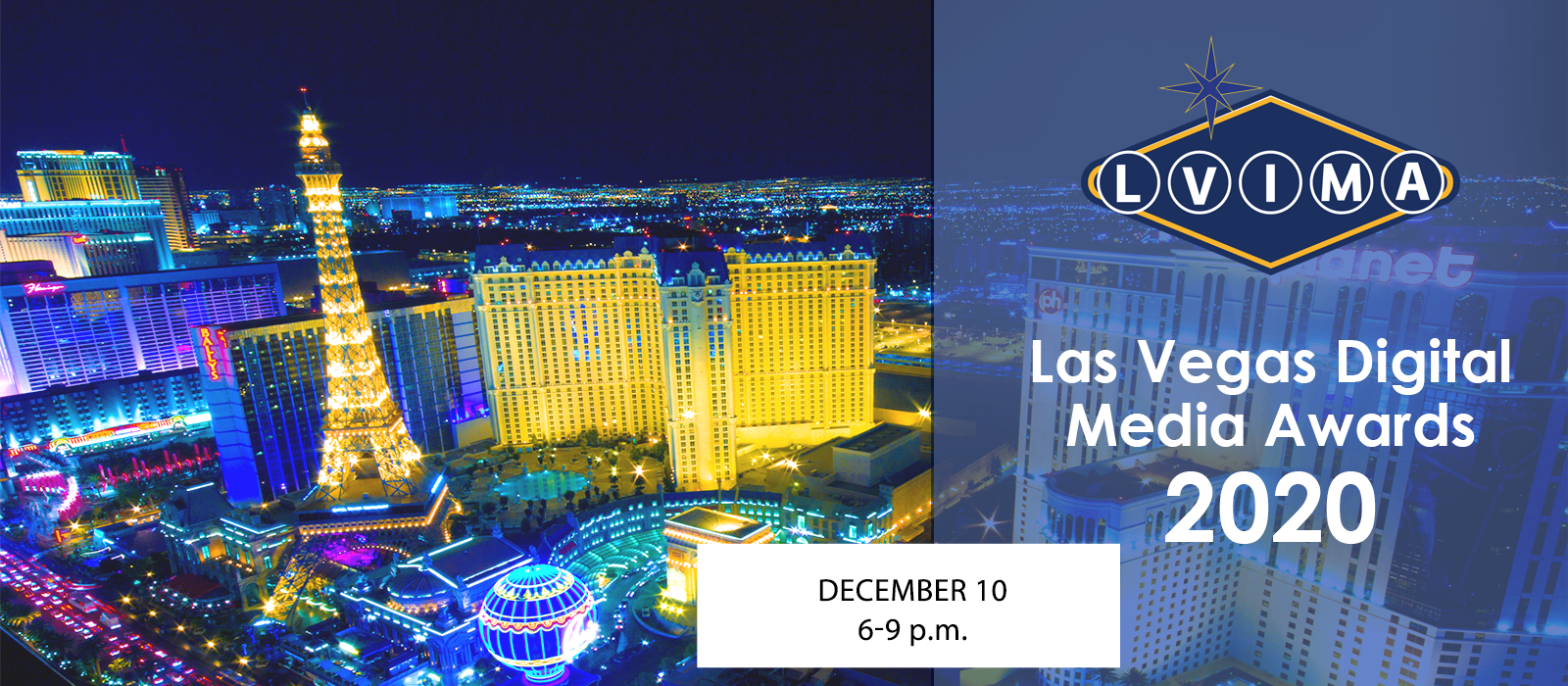 Las Vegas might be on a "Pause," but our Awards are not! We've gotten pretty good at this virtual thing (#humblebrag) and we've come up with the perfect combo of fun, seriousness and celebration to end the year. The Digital Media Awards have always been one of our favorite events to come together and celebrate the teams, leaders, partners and work that have highlighted the year. We think it's even more important this year to shine a light on all the inspiring work our members have done. Hint: There was a lot!
To be safe, responsible and so that all our members can join, we're taking the awards fully virtual. Invite your family, get your Quarantine Crew together or snuggle up with your furry BFF to join in the fun. To help you get in the mood, we'll be sending you a Party Kit filled with all the essentials.
A special Thank You to our LVDMA Sponsors who are making this event possible: Quantcast, GumGum. Causal iQ, REQ, Simpli.fi, Zeta and our cocktail sponsor, Tremor Video!
Award Submissions are Now Closed
See our Award Categories HERE.
Our Sponsors
Cocktail Sponsors
Our Judges
Lizzie Seedhouse
Lizzie Seedhouse is the Senior Vice President of Digital, Emerging Technology & Strategy with the United Soccer League
Lizzie Seedhouse is the Senior Vice President of Digital, Emerging Technology & Strategy with the United Soccer League, based in Tampa, Florida. Seedhouse has been with the USL since February 2016 and currently oversees a team responsible for fan engagement via all of the USL's digital channels. As the organization's leader in global data strategy, Seedhouse is responsible for profiling the USL fan, implementing enhanced data-capture methods, and leveraging fan data to better connect and engage with the USL audience. She is also leading the way on all Sports Betting initiatives for the USL.
Sophia Woodhouse
Sophia Woodhouse is President of 212NYC, New York's Digital Advertising Club and Senior Client Partner at Twitter.
As President of 212NYC, New York's leading organization for the digital advertising industry, Sophia is committed to building a better NYC advertising industry by providing the platform, programming, and tools to move the industry forward and enable digital media professionals to build their careers and create meaningful connections.
In addition to her role as President of 212NYC, Sophia is a Senior Client Partner at Twitter where she is responsible for overseeing powerful marketers like American Express and Mastercard. She is also a member of Twitter's business resource groups, including #TwitterWomen and #BlackBirds.
Jim Nichols
Jim Nichols is CMO of Partnerize.
Jeff Minsky
CMO/Director Emerging Media Investment, Media Village
Jeff Minsky is an award – winning digital media pioneer, innovator, media analyst and futurist. With a career spanning three decades, Minsky has worked with top brands, such as MasterCard, Pepsi, IBM, Disney, TheCW, Hilton, Nissan, and many others to enable their digital transformation. As founder of Ogilvy & Mather's Digital Media team in 1994, Minsky laid the groundwork in search and display advertising; including launching the first true ad campaigns on the web. He co-authored, edited, and negotiated the original version of the 4A Terms and Conditions which enabled the entire digital advertising ecosystem to work off of standards. He has incubated and launched several divisions within Omnicom Media Group including mobile, gaming, and AdvancedTV. Currently he serves on the Advisory Board of Influential, an AI powered social influencer marketplace. He currently holds the position of Lead Analyst and Editor at MediaVillage working closely with industry icon Jack Myers. Jeff is also a leading expert in the Virtual Reality space working as a consultant to inVRsion, a VR-powered SAAS platform for hyper-realistic simulations of products, fashion, and retail environments.
Our Venue
Due to Covid, This Event is Now Virtual Only
Who's coming?
140 people are attending 2020 Las Vegas Digital Media Awards